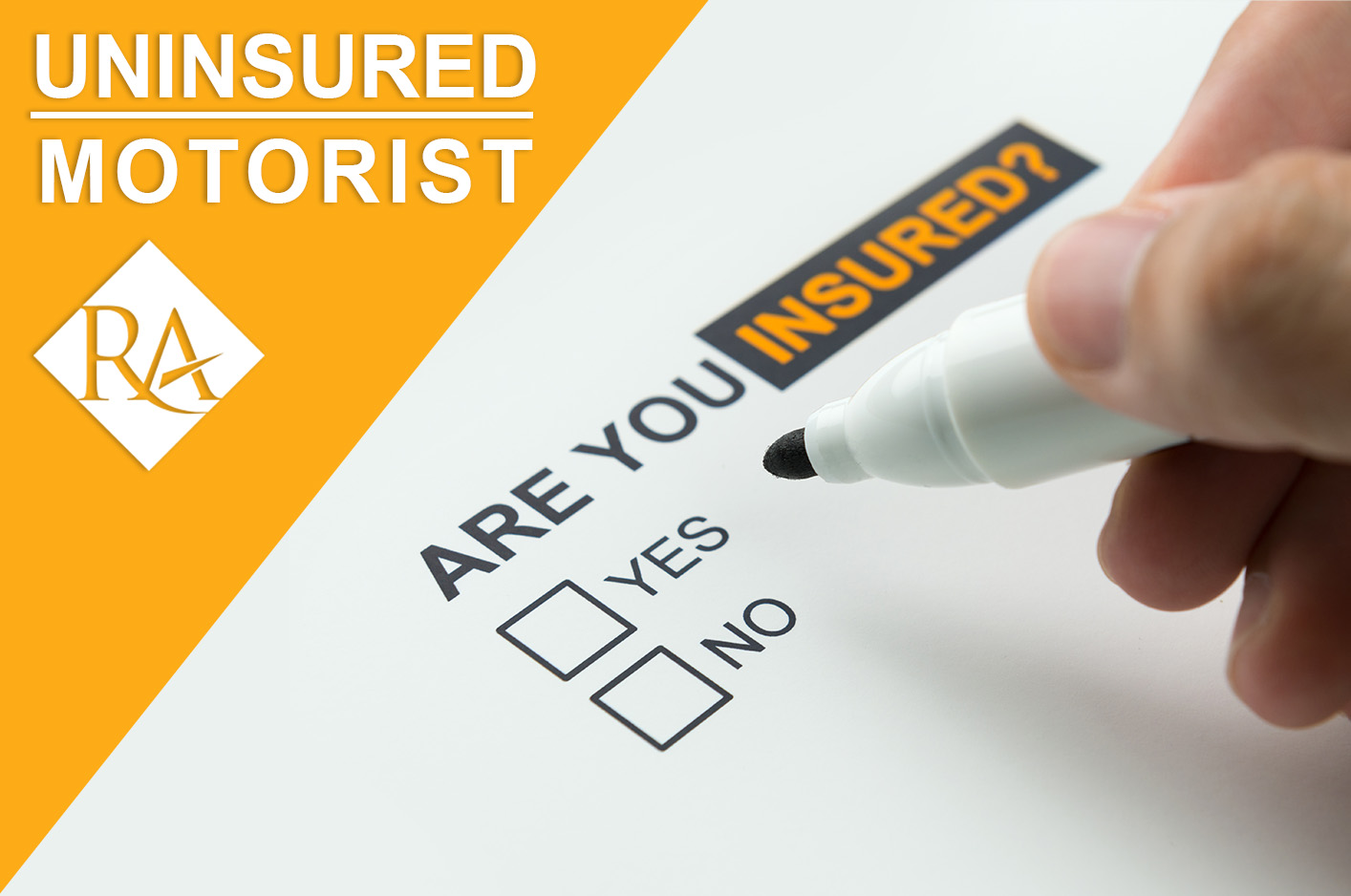 09 Jan

Uninsured Motorist Coverage is a Must

After the initial trauma of a car wreck, the concerns of insurance coverage are real. Does the party at-fault have insurance and is it enough to fully compensate for all injuries and losses? Will there be adequate coverage to fully cover future medical care, lost wages at work, and permanent injuries? Uninsured motorist coverage alleviates all these worries.

In California, insurance provides ultimate protection when you or a loved one sustains injuries after a car accident. All motorists in Los Angeles are required to have insurance coverage. However, liability insurance alone is not enough to protect you and your family. If you get in an accident with an uninsured driver, you may be on the hook for damages, repairs, and more. Uninsured motorist (UM) coverage protects you where liability insurance alone cannot.
REGULATIONS FOR UNINSURED OR UNDERINSURED ACCIDENTS
California mandates all drivers to have insurance. California is a tort state, meaning that the person at fault for the accident is responsible for the damages.
But because California is a fault state, if you're liable for an accident and don't have this required insurance, you will have to cover for all the damages and compensation.
The state also has a rule known as "No Pay, No Play," which states that if you get in an accident and it's the other driver's fault, but you don't have insurance, you will not get full compensation. RA & Associates has a complete breakdown of how to receive maximum compensation for your car accident.
UNINSURED MOTORIST BENEFITS
When you are injured in a collision and the at-fault driver is uninsured, you'll only receive what the driver has purchased in liability insurance. This is usually at most $15,000 for covering your expenses.
However, you can fight for complete compensation from your insurance company for your injuries if you have uninsured motorist coverage. This coverage is an addition to your auto insurance policy that covers your hospital bills or repair expenses when you are in an accident, and the at-fault person doesn't have auto insurance.
Typically, uninsured motorist coverage categories are:
1. Bodily Injury Coverage
Bodily injury coverage means compensation for any physical pain sustained in an accident (where the driver at fault is uninsured). Additionally, it applies where the at-fault person is underinsured and cannot cover all your damages such as emotional distress and pain, lost wages, medical expenses, and property damages.
It would also cover you and others included in your policy when injured in other cars. For instance, if your spouse or child sustains any injuries while on a bus or cab that's uninsured or underinsured. It also covers you and the others in your plan in the event that they are a pedestrian in a car accident.
1. Property Damage Coverage
The explicit design of property damage coverage pays for the repair expenses for your car after a collision involving an uninsured and at-fault driver. California law requires auto insurance companies to avail uninsured coverage for all motorists.
HOW TO FILE FOR AN UNINSURED MOTORIST CLAIM
To file for an uninsured claim, you need to provide sufficient proof of fault upon the opposing driver. Police reports and accurate documentation are a must. You also need to notify an attorney about the accident as soon as possible. Insurance companies can twist your words and find blame on you even with the proper documentation. An attorney can protect you and ensure timely and proper filing of all documentation. Majority auto insurance policies have strict deadlines when it comes to filing an uninsured claim.
Liability insurance won't cover an accident only if the driver who hit you doesn't have insurance either. It is crucial to find out and make sure you have UM coverage.
Get UM coverage today and make sure to always call an accident attorney to protect yourself and your loved ones in a crash with an uninsured driver.